I was recently introduced to Andy Taylor by a mutual contact. Given our respective health challenges and mutual desire to make the world better, I interviewed Andy on a variety of topics. I am honored to have the opportunity to share some of his story here.
Angela McKane: Hi Andy, thank you so much for agreeing to share some of your insight with me today!
Andy Taylor: It's such a pleasure to be speaking with you, Ange. I'd like to mention at the outset just how much respect I have for women like yourself working in the traditionally male-dominated oil and gas industry. I'm a huge advocate for valuing the diverse contributions that women and men together can make to every organization. I'm proud of the fact that Merinda, my wife of 26 years, is smarter, more capable and more talented than I'll ever be!
AMcK: Ah, excellent, thank you! Okay, to get us started, could you tell me a little about the work you do?
AT: Sure! Having left a 25-year multinational corporate career, for the past five years my focus has been on helping companies to accelerate to net zero. I'm doing this as a partner in both Companies for Net Zero (CNZ) and Greentech.
CNZ's mission is to bring together Fortune 500 companies in our summit events, in order to share climate knowledge and companies' success stories so far, from which others can learn, and then emulate. We also share daily and weekly climate insights via our newsletter and CNZ Eco-Forum digital app.
As Greentech, we are impacting investors in innovative sustainability technologies. We've assembled a portfolio of market-ready climate technologies that focus on decarbonizing buildings. We take our clients through a sequence of: (1) Measure (their energy), (2) Plan (how to reduce it), (3) Engage (solution providers), and then (4) Deliver (the net zero project). We're now assembling partnerships with multi-billion dollar green debt funds to offer "renewable energy as a service" solutions to our clients. We also have a separate portfolio of circular economy recycling solutions.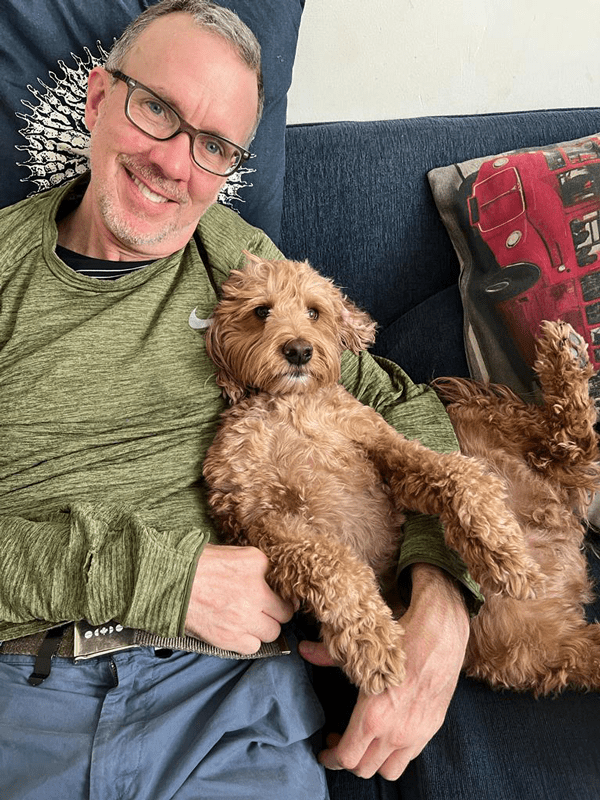 AMcK: This sounds really cool and impactful. I love the CNZ app. Andy, if you are comfortable also sharing it, could you tell me a little about your medical diagnosis?
AT: Sure thing. Late last year, I was formally diagnosed with motor neuron disease (MND). (In America it's called ALS). MND affects one in 350 men, and one in 500 women. It's a neurological disease that progressively damages the motor neurons that control the body's voluntary muscles. I've already lost most of the use of my arms, and my legs are weakening. Eventually, it is expected to impact my speaking, swallowing and ultimately my breathing, which means MND is a terminal illness. Most people with MND don't live past three to five years from diagnosis.
I'm welcoming the opportunity to share this, as it seems many people are unaware of the MND symptoms (including many front-line health professionals like GPs and physiotherapists, etc., in my case). They all thought my weak arms were spinal-related, and so I waited months for x-rays and MRIs before MND was suggested. This potentially delayed my accessing of drugs that could delay the onset of my symptoms.
Now, it's all about hacking solutions to the physical challenges, I'm finding. Since my diagnosis, I've started using AI software to dictate all of my work-related communications, such as emails. This is because trying to type with limited arm and hand strength is a massive challenge now.
One of the biggest impacts from my illness has been on my wife, unfortunately. She's really had to step up massively because I need help with all my personal administration such as getting dry after a shower, getting dressed and meal preparation. I can't drive anymore, so she's having to take on the extra burden of driving our two boys (Mac, 12, and Bode, 15 years old) to all of their sporting and extracurricular commitments.
The impact of this sort of diagnosis is really hard on one's whole family in many ways.
AMcK: Receiving this diagnosis must have been so tough for you as well.
AT: For sure, especially because I was keeping myself so fit and healthy until I was diagnosed late last year at 52. I've been into sports all my life. Since the age of 35, I particularly focused on the need to work out, and I really did – going to the gym, playing regular tennis, you name it. I was strong, energetic and healthy. I certainly never contemplated having to face what I'm facing now.
My message to readers is get to know your body and if something feels wrong, be willing to push hard to get the relevant tests, referrals to specialists, and a reliable diagnosis. Perhaps take advantage of buying a biometric scale to give you excellent detail on all your body metrics. Take advantage of all the companies now offering various blood tests, gut health tests and other health checks to actively monitor your health.
AMcK: Thank you, that is a really important message. Andy, is it fair to say that some of the most challenging impacts of a terminal diagnosis like this are the psychological impacts, even over and above the physical manifestations?
AT: Absolutely. None of us really likes to confront the reality of our own mortality. Most of us hope for a lifespan that extends into our 80s and beyond. So, for me, this is now all about how to deal with adversity.
My first response is that if I allow something like this to have a negative emotional impact on me, like anger, frustration or sadness, then it's winning a second time, a third time and a fourth time. My philosophy is that if you have been adversely impacted by something, then it's all about how to address that impact in the best way possible, fighting it all the way (with a positive mindset) until my last breath.
I was already working hard on trying to make the world a better place, and so my desire to make the world a better place is now even more urgent. Sure, I can't leave the house like I used to, but now I can devote seven days a week and evenings to my passion, and the task I was already working on, [which is] scaling innovative sustainability technologies into our global corporate network.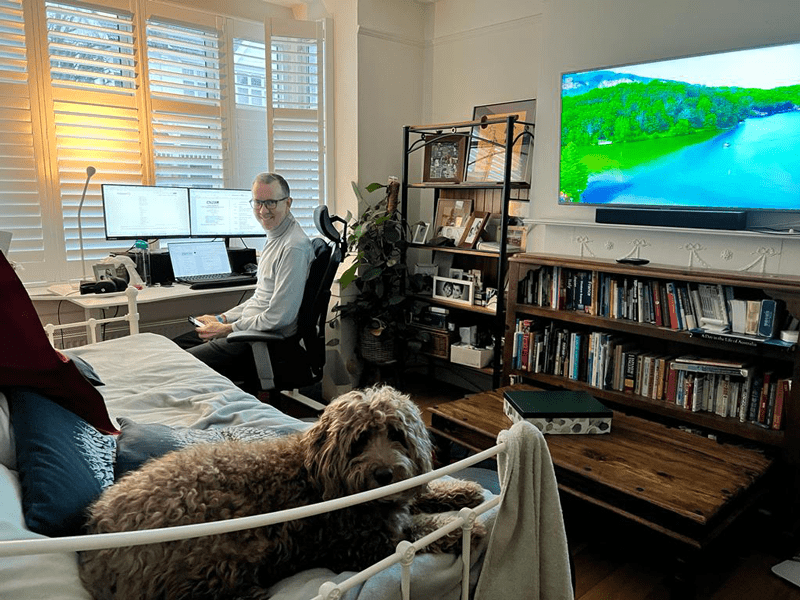 AMcK: Wow! That's an impressive mindset to have in response to this.
AT: Exactly, and it's so important. It's a key message I'm keen to promote to everyone reading this. It is imperative to maintain a positive growth mindset in the face of any big challenges: health, climate and the rest. Technology innovation can help – it's helping me – but you need to also practice the mindset of bigger-picture thinking and resilience. We all have something going on with us, and there's always someone we could perceive as being worse off than [we are]. You can take the pain and frustration of a difficult diagnosis, and channel that energy into your passion which, in my case, is providing solutions that will help organizations decarbonize.
AMcK: Same! I completely agree with you on this.
AT: Yes, this is also a key message for organizations. People living with disabilities are a tremendous asset in the quest to solve the energy trilemma. Overcoming significant obstacles means we've got inherent grit and determination; indeed, any of us who have suffered adversity of any kind naturally become more passionate, more committed and more focused on making a positive difference! We're less likely to recoil from embracing a new opportunity. A takeaway for individuals here is: This is a skill you can practice. You can cultivate and build resilience, even if facing tremendous challenges. Would you believe that I sometimes sing in response to this?
AMcK: What? You're a singer?
AT: Well, not a very good one. But, as MND ultimately affects your ability to speak and to breathe, singing is recommended as a perfect way to train your diaphragm. Right now, I'll blast out heavy metal and rock tunes in the evening. It exercises my lungs and it can also be very cathartic.
AMcK: Andy, can we collaborate on a Spotify playlist for this?
AT: Ha ha – yes, of course! Staind (American rock band) [is] one of my favorite bands to sing along with, by the way.
AMcK: Okay, deal! Andy – from my heart to yours, thank you for being so open today.
AT: I've been so glad to have been a part of this with you. For those reading, people living with disabilities are generally glad if you show a genuine interest in our circumstances and our journey through life rather than just expressing sympathy or pity.
We have learnings to share on what's important and sharing together is what builds human connection. Human connection is what builds powerful teams, cultures and organizations. It's what builds the relationships that good business is based on. It is what will help us collaborate in facing the big challenges: health challenges, achieving net zero, and more. For me, my desire to make the world a better place is now ever more urgent, and so I spend my time partnering with those that can help me do that. I strive to share these perspectives that I've learned on mindset with others and with my two sons, who both make me an immensely proud father.
AMcK: And I'm sure they are just as proud of their dad. Thank you, Andy.
Connect with Andy Taylor on LinkedIn.
Connect with Angela McKane on LinkedIn.
For more information, go to the MND Association in the U.K. and the ALS Association in the U.S.
Headline Photo: Family time (left to right): Andy Taylor's wife, Merinda, sons Bode and Mac, and Taylor. Photos courtesy of Andy Taylor.
Reprint from OILWOMAN Magazine – March/April 2023
Angela McKane's role entails leading a team of Subject Matter Experts (SMEs) responsible for horizon scanning for emerging or disruptive technology innovations that will shape our changing global energy system, as well as oversight of her team's internal technology research service that provides deep insight on the potential for new technologies across bp Group. McKane transformed her team's service into a digitally-enabled offer, providing bp employees with 24/7 access to insight delivered via an internal online platform, and a close to real-time horizon scanning capability, using APIs connecting to world-leading subscribed datasets and automated scanning of these datasets for new breakthroughs and emerging trends. This provides bp with a competitive edge in finding technology-driven new business opportunities that will enable the company to participate in a changing energy mix, and to achieve its net zero ambition.