As someone who has been in the energy industry for 28 years, it has only been in the last decade that I have met women operators, drillers, frackers, the first woman to work offshore in the U.K. and a CEO of a utility company. In celebration of International Women's Day and Women's History Month 2023, let's take a look at some of the occupational data measured over the last decade by various interested organizations to get a feel for progress stemming from this collective initiative by women and men, organizations, companies and investors to support, promote and advance women working in the oil and gas/energy industry over the last decade.
To start, we are going to use women's participation in the overall economy, which is approximately 47 percent, as a general benchmark. This number is fairly stable (changed by less than one percent since 2015).
In 2012, API referenced a study by PWC that the oil and gas industry supported 9.8 million jobs in the U.S. The following year, a Texas Oil and Gas Magazine article, appropriately titled "Breaking Through the Gas Ceiling," began with the question, "Women in the oil and gas industry – an oxymoron?" and cited a 2012 Global Oil & Gas Salary Survey conducted by Hays Recruiting which reported that, "Women are vastly outnumbered by men, comprising only 7.8 percent of the industry in the U.S. and, of those, very few ever make it to the top, decision-making positions." Based on these data points, let's say approximately 764,000 women were working in the U.S. in 2012 at the height of the shale revolution 1.0.
I have been working in the energy industry since 1995 and, I have to admit, I was surprised to see the 7.8 percent. I knew the percentage was low, but I was shocked that it was less than 10 percent.
As we look back, I also think it's important to consider stats in the context of the overall industry landscape at the time. For example, there was the downturn 2014-2015 that impacted a lot of jobs (men and women). Beginning in January 2016, the U.S. reversed a 40 year ban on oil exporting which helped the industry recover a lot faster than it would otherwise. In fact, a U.S. Department of Energy (DOE) article says the energy sector was one of the fastest growing job markets in the U.S. From 2015 to 2019, industry employment grew three percent, which was double the 1.5 percent of the general economy. The point here is there has been a lot of volatility in jobs data.
Let's look at a couple of data points about women's participation in the energy workforce from that time period:
Also in 2017, BCG issued a publication in collaboration with the World Petroleum Council reporting women's representation in the global oil and gas industry was 25 percent. Of those, 27 percent worked in entry level jobs and 17 percent of women were senior and executive level personnel. The BCG study included 38 oil and gas firms representing $1.6 trillion in revenues.
One general observation: Of the various studies available, we noted that global percentages tend to be higher than U.S. sector statistics. No explanation is provided, so you have to draw your own conclusions.
The Pandemic Effect
Then COVID-19 hit. I doubt anyone in the industry will ever forget watching the price of oil go negative in April 2020. Milk, eggs and Zoom stock were worth more than oil! In all, the DOE reports 839,000 jobs were lost in 2020. Fortunately, the following year, U.S. energy sector jobs grew four percent, bringing total jobs to 7.8 million in 2021. But that's still two million less jobs than at the beginning of the decade.
Post COVID-19 Discoveries
Surprisingly, women's participation in the energy sector post-COVID-19 has improved.
In 2021, the Energy Workforce and Technology Council (formerly the Petroleum Equipment Services Association aka PESA) reported women represented 19 percent of the oil and gas workforce. This is a four percent improvement since its last study in 2018.
In 2022, the Center for American Progress (CAP) research found in the U.S. women represented 25 percent of the total energy workforce. That's approximately a 17.2 percent increase from PWC's findings a little over a decade before. CAP also noted that globally the renewable energy sector leads other sectors with women making up 32 percent of its ranks.
We also found a couple of studies from 2022 on the percentage of women in the oil and gas workforce that ranged from approximately 22 percent to 25 percent, depending on the source.
According to the U.S. Department of Labor (DOL), any occupation where women represent less than 25 percent of the workforce is considered male dominated. Curious how many occupations fall into that category? In 2020, only 6.5 percent of women in the U.S. worked full-time in occupations falling under this "male-dominated" definition as reported by Catalyst.org based on study by the Institute of Women's Policy Research.
Based on the studies and the numbers we have looked at for women in energy, it appears that sometime around 2022 the energy sector (overall) and the renewables sector transitioned and are no longer "male dominated occupations," according to the DOL's textbook definition. In addition, the oil and gas sector is very close to exceeding the 25 percent threshold.
To Attain Gender Balance, Oil and Gas Companies Need to Take Action on Three Levels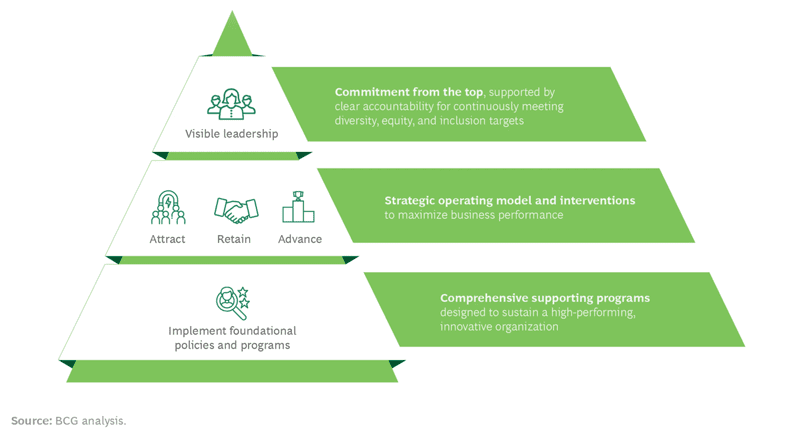 Drilling Down Into Job Details
There are some very interesting details in these later studies. For example, Catalyst.org reports that within the renewables sector, more women work in admin jobs (45 percent) than in STEM related roles.
In the case of the oil and gas, machinery manufacturing, petroleum refining and the construction workforce, in 2021, the Energy Workforce and Technology Council reported:
Women held 34 percent of the jobs in business support functions, up 31 percent since 2018. Within this category, women represent 31 percent of first line and middle/upper management, and 18 percent of the highest-ranking executives.
Whereas women held 12 percent of the jobs in technical/operating functions, up eight percent since 2018. Within this category, women represent 11 percent of first line and middle/upper management and nine percent of the highest ranking executives (up more than seven percent from 2018).
Based on their reported results, it appears women have been moving up the technical and operating ranks over the last five years.
From my perspective as an entrepreneur, I am a bit disappointed to see the statistics for energy startups are similar to what is seen in the technology sectors. The previously mentioned CAP article referenced a 2020 report from the Global Accelerator Learning Initiative in which 63 percent of energy sector startups surveyed were led by all-male teams. Based on my own personal experience, I believe this stat may actually be even higher for oil and gas and petrochemicals.
The bright spot in the energy sector is the utilities sector. In 2021, Catalyst.org reported 17 percent of senior utility executives are women. In fact, the Catalyst study states, "There are more women senior executives in the utility industry than any other energy sector." CAP also had similar findings in its 2022 review of the board of the 200 Largest Utilities in the world in which it found that women make up 16 percent (or roughly 25 seats).
Interestingly, the finance world's Seeking Alpha published an article about women on the boards using S&P Dow Jones data. It found that women make up 32 percent of energy boards and 29 percent of utilities boards. "In terms of sectors, energy has a greater than average number of women on their boards." No doubt, these results are due in part to the large push by firms like Black Rock and many other institutional investors in support of greater gender diversity and inclusion on director boards.
Collective Efforts
The future of women in energy is very bright as we enter the next period of energy transition. There are more opportunities for women now than 2013. Our representation has improved 10 percent or more in several sectors and job occupations, representing significant improvement in a decade.
Many of you are working full-time in sectors that are not technically "male-dominated" or are right on the line.
Doors have opened. More women are getting C-suite jobs and paid corporate board seats. Institutional investors continue to pressure C-suites and boards to add women, but there is still more work that needs to be done.
There is greater support for diversity, equity and inclusion (DEI) initiatives now than 2013; however, ethnic minority representation (which definitely impacts women) is still lagging. We need to work on this in the future.
We all did this together – the collective efforts of women and men, various organizations, various companies, institutional investors, other industry efforts, and what I call "the business of economic empowerment of women in energy." All have had a positive compounding influence in support for women in energy.
Will we see gender balance? Perhaps. But keep in mind this does not guarantee equal representation at higher ranks. We see that throughout the data.
As for the next decade, I hope to see more women energy entrepreneurs – and to be joining the ranks of women on corporate boards myself.
Reprint from OILWOMAN Magazine – March/April 2023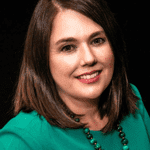 Paula Waggoner-Aguilar is an experienced energy CFO, business controller, board advisor, and a CPA. She is the founder and Managing CFO for The Energy CFO and has received numerous awards for her work, including Best CFO Private Companies from the San Antonio Business Journal and a Women's Business Award from the National Association of Women Business Owners (NAWBO). She is also the founding president of the Women's Energy Network South Texas Chapter.
Prior to becoming an entrepreneur, Waggoner-Aguilar worked as a senior planning, finance and accounting executive for Lewis Energy Group, Buckeye Partners, BHP Billiton Petroleum and Suez Energy LNG North America. She started her career in the 1990s working in the oilfield as an internal auditor in Latin America for Dresser Industries.
The Energy CFO is a CFO services firm that specializes in helping private companies and family enterprises involved in all aspects of the energy value chain. Its CFO team understands the unique challenges businesses in this industry face and is committed to providing tailored solutions designed to take companies to the next level. The Energy CFO is woman majority owned and will be celebrating its 10th year in business in April 2023. The company always offers a free initial consultation and affordable fractional CFO services. www.theenergycfo.com